Anse Major Trail
Are you looking for a hiking trail that will take you to a stunning beach at the end? Then this is the trail for you! This tour starts in the north of Mahé and leads through sandy, sometimes sunny paths to a really secluded beach, Anse Major. Pack your bathing suit and enjoy this unique hiking tour!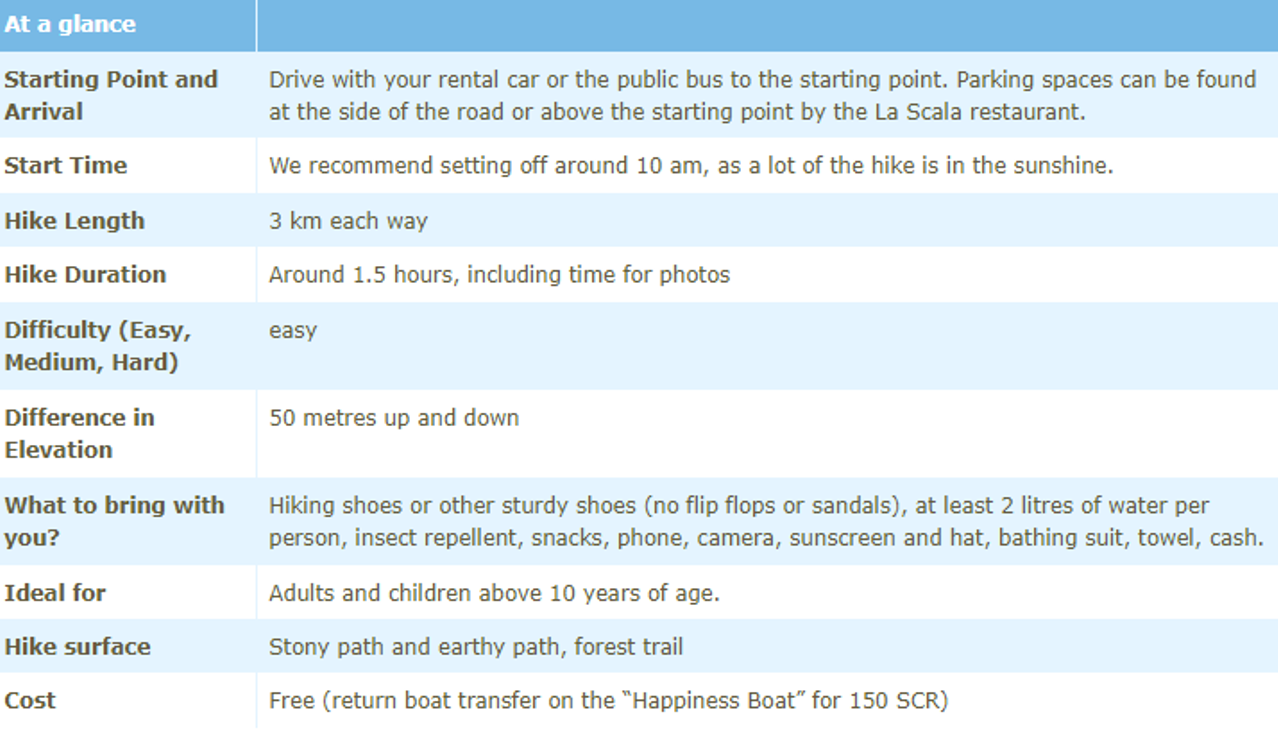 The hike to Anse Major is an absolute must-do for any Seychelles holidaymaker. The starting point is in Bel Ombre, around 3 km from the world-famous beach of Beau Vallon, is home to parking spaces and a bus stop, ensuring you can reach it with ease.
Set off along the street, leading past several houses. At the end of the street, you'll find the first highlight of this tour, with giant granite boulders at Bel Ombre. Walk up to the plateau, towards the ocean, and enjoy this spectacular view. The mixture of large boulders, the blue ocean, and the island of Silhouette in the background make this a beautiful sight, well worth some photos. After you've enjoyed this view a little, it's time to climb down from the rocks and head back to the road.
From there, head down the hill past a huge villa, straight to the main part of the trail. Walk along the stones and paths and see more beautiful views of the ocean.
The trail is somewhat obvious, but has almost no signposting, although it really isn't needed. Up and down, across and at one point under some rocks, the trail leads all the way to its final third. Here, you'll reach a small hut, and can already catch a glimpse of Anse Major. Take a break and enjoy the view, before you set off through a palm tree forest to reach the beach itself. The beach is entered across some more huge granite boulders, which you will have to climb over. It's worth helping each other out here by taking each other's bags while they climb up over.
Now you've arrived at Anse Major, that desert island feeling will truly set in. White, fine sand and turquoise ocean water await you here. Relax on the beach and cool off after the hike, perhaps with a cool drink at the beach bar, as the scenery that surrounds you washes over you.
After you're done at the beach, you can take the same trail back. There is however another option, if you wish, which is to take a boat taxi. The small yellow boat "Happiness", comes once per hour to the beach and sails back to Bel Ombre, to the start of the trail. This taxi boat costs 150 SCR per person. We recommend taking the taxi boat, as this way you can see Anse Major and some more of the surrounding area from the sea, giving you another view of the spectacular surroundings.